Air Conditioning Installation
Air Conditioner Replacement, Air Conditioning Installation & AC Installation

Chicago, IL, Lincolnwood, IL, Bolingbrook, IL, Darien, IL, Niles, IL & Woodridge, IL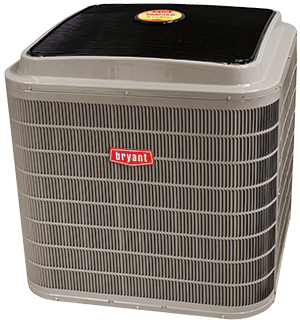 There's nothing like the sweet relief of a cool, dry home on a hot and sticky afternoon. In the Chicago area, air conditioning is much more than a luxury, allowing you a well-deserved, relaxing weekend and peaceful night's sleep. Through an energy efficient, ultra-quiet cooling system, you'll enjoy your home in a whole new way. Refreshing comfort as well improved indoor air quality are not only easily achieved but affordable. When you call All Temp Heating & Air Conditioning for air conditioning installation, we provide you the most popular and proven names in manufacturing at the best prices.
Replacing your air conditioner will lower your energy bills!
All Temp Heating & Air Conditioning offers you the greatest selection of hard-working, high-efficient, name brand air conditioners. Our Bryant Evolution© Series offers you the highest efficiency home cooling (which saves you the most money during operation) and has earned Consumer's Digest Best Buy status. Our Bryant Preferred™ Series and Legacy™ Line products give you economical performance, comfort, and value. Since 1938, All Temp have been serving Chicago Air Conditioning needs.
Central AC Installation Morton Grove, IL | Air Conditioner Installation Lincolnwood, IL | Central Air Conditioner Park Ridge, IL
Our NATE-certified technicians have the knowledge, skills, and experience to size your new system properly. When it comes to heating or cooling your home, bigger isn't a guarantee of better. Overly large units never achieve efficient levels of operation or humidity removal. Because the unit continually cycles on and off, needless stress is placed on components, leading to more frequent repairs and reduced system longevity. When your new cooling system is correctly sized and installed by All Temp Heating & Air Conditioning, count on fifteen to twenty years of consistent comfort.
Factory Authorized Central Air Conditioner Niles, IL | Air Conditioning Installation Bolingbrook, IL | Central Air Conditioning Installation Skokie, IL
All Temp Heating & Air Conditioning is a Bryant Factory Authorized Dealer, distinguished for the highest level of customer service and technical know-how. Having met Bryant's strict standards for skills, workmanship, and sound business practices; this factory endorsement enables us to offer the most innovative and energy efficient products available on the market.
Central Air Conditioner & Central AC Replacement in Park Ridge, IL | Central AC Installation in Lincolnwood, IL | Central Air Conditioning Installation Darien, IL
As a Comfort24-7 Provider, the "Comfort Promise" covers our service and installed equipment. If you're not satisfied within the first two years of operation of your new Bryant system, All Temp Heating & Air Conditioning will repair the problem at no charge or remove the installed component and refund the installation price. At any time following a new system installation, repairs to any transitions, flue piping, and gas and electrical connections will be performed at no charge to the original purchaser.
Unmatched AC Installation Services
At All Temp Heating & Air Conditioning, we deliver solutions to your specific comfort needs. No matter how big or small or style of home, we have a cooling option to satisfy your budget and expectations. Call us at 1-866-693-2009 and speak to a live representative of our team. We would be happy to answer any questions, provide information, and make recommendations. All Temp Heating & Air Conditioning offers free in-home estimates. We endorse only equipment with a proven track record of performance, insisting on reliable efficiency, noise levels, humidity control, and longevity. Our goal is to get your home perfectly comfortable as quickly as possible, and keep your family comfortable for as long as possible. By being available to our customers, we eliminate wait-time and maximize satisfaction.
Central Air Conditioner

∴

Central Air Conditioning Installation

∴

Central AC Installation ∴ Skokie, IL ∴ Darien, IL ∴ Bolingbrook, IL